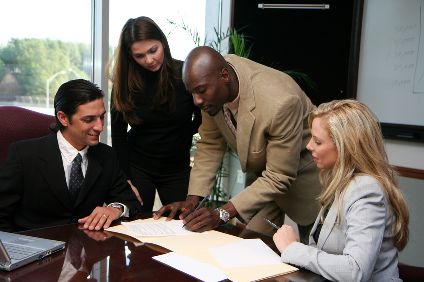 BUSINESS-LED PROJECT MANAGEMENT
Many organisations take a project management approach to the carrying out of major activities and programmes that deliver benefits to a company, and help achieve organisational objectives.
Important in doing that effectively, is to recognise that projects need to be managed differently to routine management tasks, and that the roles within projects are different to organisational roles.
To be successful these kind of projects need to be managed using an effective, organisation-wide, business-led project management process.
If this is missing then there are common problems that occur in these projects:
Required outcomes for the project keep being changed - Insufficient buy in from key stakeholders - People's roles in the project are unclear - Obtaining & keeping resources is difficult - Lack of prioritisation of projects with over use of resources - Plan keeps being changed and revised - Decisions already made keep being revisited
We have very wide experience in developing and implementing a company wide, business-led, project management process within companies.
We work in partnership with you to develop and implement a company wide, business-led project management process that is 'fit for purpose' for the different types of projects, the business environment and the organisation structures within your company.
Which includes:
The Five Stage Life Cycle Process - Project Roles & Organisation - Communication Methods & Structures - Planning - Risk Management - Stakeholder Management - Monitoring & Controlling Methods - Change Control Procedures - Projectject Closure & Post Implementation Activities
Please click on the pdf file below for Project Management Process Design & Implementation Case Studies - Haringey Council - The Barbican Centre - Virgin Net.

RISK MANAGEMENT PROCESS
We have expertise in assisting organisations to develop an organic in-house risk capability, including development of effective methods, supported by appropriate processes, tools and training.
Risk management is an essential component of effective project management, and our consultants have considerable expertise in this area.
Our risk management approach is both professional and pragmatic, offering clients an effective and efficient means of controlling uncertainty which follows best practice.
We work with our clients to provide tailored risk management support at an appropriate and cost-effective level to meet the specific risk management requirements for their types of projects.
It covers all aspects of the Risk Management Process:
Identification - Analysis & Assessment - Planning - Tracking - Controlling
ORGANISATIONAL BENCHMARKING
We assess the project management capability of an organisation, using self-assessment questionnaires and structured interviews.
This information is used to carry out detailed diagnosis of underlying strengths and weaknesses, and to agree actions with you for dealing with the weaknesses and maximising the strengths.
PROJECT ASSESSMENT
Project Assessments are normally carried out by our consultants for a particular project on behalf of a project sponsor/owner.
They are carried out as an exercise in risk management, to ensure that there is a sufficient project management process in place for the success of the project.
The assessment produces findings and recommendations for improving the management process of a specific project, which are agreed with the project sponsor, manager and team.
PROJECT MANAGEMENT SUPPORT
Our consultants can facilitate or support key project management processes on live projects. Undertaking specific consultancy assignments for strategic projects, long-term projects, or programmes of projects.